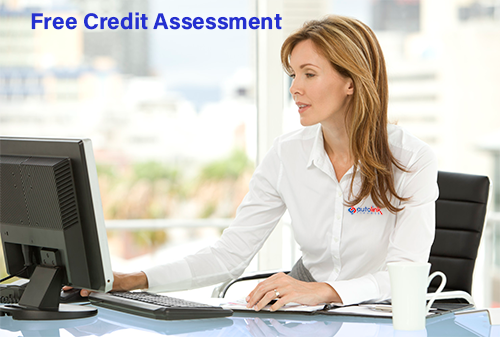 Free Credit Assessment Process
How our free credit assessment works and what it can do for you.
Our free credit assessment is quite thorough and accurate and takes around 30 minutes to complete, this will provide you with valuable information such as can you get a loan, if you can't get a loan, we will advise you why and what you need to do/fix to be able to get a loan later, and when to come back & re-apply.
If you can get a loan we will be able to tell you how much you can borrow, what the interest rate will be, what the loan term will be, what fees are applicable, and finally what the realistic repayments will be all based on your personal circumstances.
Our process is stepped out below.
Step 1.
We will collect some very basic details from you, this takes around 10 minutes and will allow us to start to get a picture about you.
Step 2.
We will get you to sign our privacy disclosure document, this is a digital document that is emailed to you and you can sign it on your phone, computer or tablet, takes a minute to complete and no printing is involved.
This will allow us to discuss finance options with you and will allow us to look at you credit report to see what your credit score is and other information that we require to provide you with an accurate assessment.
Step 3.
We will now ask you a few questions about yourself, your personal circumstances and current financial position.
We now conduct an income and liabilities test to make sure that you have enough surplus income for the loan you are applying for.
If required we will also ask you to provide us your bank statements for the last 3 months, this is done online through our banking section on our website, takes less than a minute and is free of charge, you bank statements will help us to make sure all your liabilities are allowed for and we also average out your income over the last 3 months to get an accurate picture of you weekly pay.
Step 4.
Now that we have all the accurate information about you, a lender is then selected that best suits your personal profile and we provide you with an accurate quote and disclose to you what the interest rate is, what the weekly repayments are, what the loan term is, what loan amount you can get and finally what fees apply to the loan.
Should you accept our quote and you want to proceed to get the loan, we then ask you to provide us with your last 2 pay slips and then we complete the full application which takes 15 minutes to complete.
Step 5.
This is the final process, here will prepare your application to be submitted to the lender for formal approval, we write our letter of recommendation for approval, prepare all the paper work to send them to review, employment & residential checks are done, and finally your application is submitted to the lender.
Formal approval usually takes around 12 business hours to come through, though sometimes it can take up to 24 business hours.
Step 6.
This is when your formal approval is provided, and you start shopping for a car.
Once you have found your car, loan contracts are drawn and provided to you to sign and settlement generally happens with in 24 to 48 hours
We do guide you through every step of the way, so no need to worry or stress.
Don't let bad credit hold you back, Apply now for our free credit assessment and see if you can get a loan today.