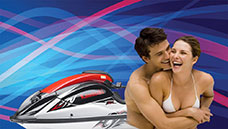 Have you been planning on buying a jet ski, but your bad credit history has been lingering around like bad smell halting those plans? A bad credit jet ski loan from Auto Link Finance is the solution to your problem. We are experts when it comes to assisting customers with bad credit. We believe all people deserve another chance. Unlike the banks, we listen to your situation, and we understand. Bad credit can happen to anyone at any time for any number of reasons. With over 30 years of experience in the finance industry, our senior loan specialists will remove all the stress that gets associated with finance and in return, we get you the best possible finance package that best suits your situation and needs so you can go out there and shop with confidence.
Speaking of shopping with confidence, with the products available thanks to our large panel of lenders, you can purchase your jet ski from a private sale vendor or a dealer meaning you can get the jet ski that you want. Another advantage of having access to our large panel of lenders is that we have some of the most competitive interest rates on the market when it comes to bad credit jet ski loans, the less you have you to pay the better. The benefits don't just stop there. By making all your repayments on time on your bad credit jet ski loan, you are repairing your credit history so the next time you choose to go for finance, you can approach a good credit lender and your chance of a successful approval will have skyrocketed in comparison to before.
With the infamous Australian summer heat starting to hit us, there is no better time than now to apply for that bad credit jet ski loan, so you get out on the waters with family and/or friends. Either click the apply now button to fill out our quick and easy loan assessment or call us on 1300 982 279 to speak with one of our friendly staff so we can get you out on the water enjoying your jet ski.